CEREC Same-Day Dental Crowns – Buckhead, GA
A Lasting Crown Made in a Day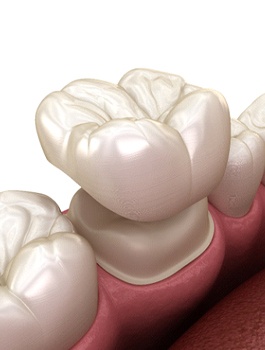 Up until fairly recently, repairing a severely decayed or damaged tooth with a crown required scheduling two appointments at the dentist. At your first visit, the tooth was prepared and a temporary acrylic crown was placed until the permanent crown could be set at the second appointment about two to three weeks later.
But what if the entire process could be completed in one conveniently scheduled appointment? That's exactly what happens with CEREC same-day crowns. With the CEREC system, Dr. Puskas is able to prepare your tooth and design, create and set a crown in just one visit. CEREC can be used to fabricate a number of restorations including crowns, inlays, and onlays.
What is a CEREC Crown?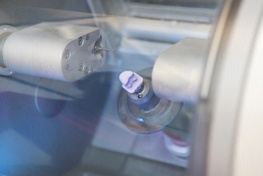 CEREC (i.e. Chairside Economical Restoration of Esthetic Ceramics) or CEramic REConstruction—is an advanced dental technology that is comprised of three separate units all housed in our office. The units include:
A digital infrared camera to capture a detailed image of your tooth
A computer and specialized software that designs the restoration based on the digital image
A milling unit that carves your same-day crown
If Dr. Puskas determines that your damaged tooth needs a crown, then you may be a candidate for a same-day crown in Buckhead.
The Dental Crown Process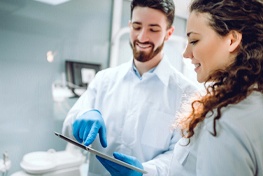 Just as with a traditional crown, Dr. Puskas will need to prepare your damaged tooth. After administering a local anesthetic, a portion of the tooth along the sides and on the biting surface will be filed away. This step is crucial not only if decay needs to be removed, but also to ensure the proper fit of your new crown.
Once this is completed, CEREC steps in and takes over; the camera takes a picture of the tooth that is delivered to the computer where the crown is designed. The design includes every last detail—size, color, and shape. From here, the design is transferred to the milling unit in our office where the crown is carved in about 20 minutes using special burs.
Dr. Puskas will carefully examine the finished crown, check the fit on your prepared tooth and then permanently cement it into place. With CEREC, Buckhead residents can have a repaired tooth and a healthy smile in a day!
The Benefits of Getting a Dental Crown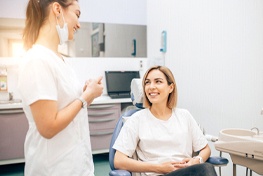 There are several circumstances that might call for a dental crown. For example, a tooth that is severely decayed may need more than a filling in order to preserve the tooth. Also, a tooth with a deep crack might split the tooth if not repaired; a CEREC crown can literally hold the tooth together and prevent the tooth from splitting and needing extraction.
Dental crowns can also help in the following circumstances:
A larger, more complex restoration is needed, such as a dental bridge or denture
Permanent imperfections in teeth need to be covered and cannot be managed with teeth whitening or bonding
Root canal therapy is performed and the affected tooth must be covered (as performing this treatment requires creation of a hole in the top portion of the tooth)
You experience a dental emergency and need a dental crown right away