Full & Partial Dentures – Buckhead, GA
Rebuild Your Smile With Natural-Looking Dentures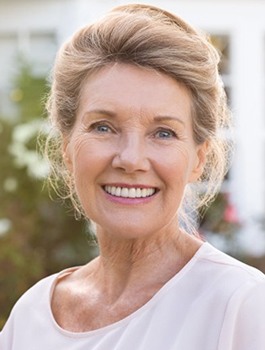 Are you missing several teeth as a result of aging? Is eating the foods you used to enjoy difficult? Full and partial dentures are an effective solution to extensive tooth loss, and Dr. Jane C. Puskas offers high-quality prosthetics to make it easy for you to smile again! Whether you're missing a handful of teeth or your entire arch, both full and partial dentures can replace them. Contact our office today to get started!
What are Full and Partial Dentures?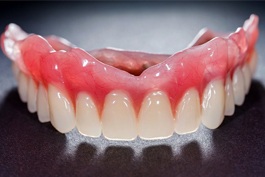 Full and partial dentures are two similar types of dental prosthetics. They typically make up an acrylic base that's fitted with porcelain teeth. These materials are designed to not only be sturdy but as natural-looking as possible. Full or complete dentures are meant to replace an entire arch or row of teeth, while partials are designed to fill gaps left behind.
While both forms work to replace teeth, the way they stay in the mouth is considerably different. A full denture is held in placed by natural suction and sometimes denture adhesive, particularly in the first month or so of wear. Partial dentures use metal hooks to latch onto a system of metal brackets attached to natural teeth.
Dentures can also be fitted with dental implants to provide a more stable fit. You can learn more about our implant-fitted prosthetics here.
What is the Process for Full and Partial Dentures?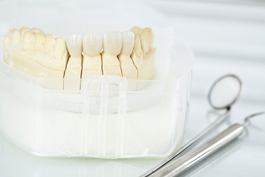 After scheduling a consultation, our team will examine your mouth, perform X-rays and take impressions. Gathering this data is crucial to ensuring that your denture fits as comfortably as possible. After sending the information to an offsite dental lab, they'll begin the process of creating your denture from high-quality materials. Once fabricated, you'll returned to the office so Dr. Puskas can confirm that it fits properly.
What are the Benefits?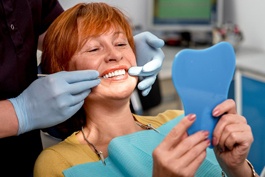 You can expect many benefits with high-quality dentures from a dentist in Buckhead. Just a few of these benefits include:
A natural-looking smile thanks to high-quality porcelain and acrylic
Remaining natural teeth staying in place and not drifting into the open spaces left behind
A fast and affordable solution to tooth loss
Additional customization options through dental implants
Improved facial structure and volume, providing a younger appearance
How Do I Care for My Dentures?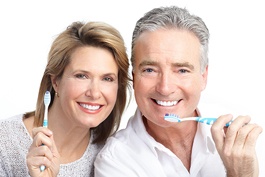 Dentures can last anywhere from five to seven years before requiring replacement. To make them last, consider the following maintenance steps and tips:
Clean your denture every day with a dedicated soft-bristled toothbrush and non-abrasive denture cleanser
Place a towel in your sink while cleaning to avoid breaking due to accidental drops
Remove and rinse dentures after eating
Soak your denture in cold water when not in use (NEVER use warm or hot water)
Clean your mouth, gums and tongue daily with fluoridated toothpaste
Rinse them off after soaking before placing back into your mouth (especially if using denture cleansing solution)
Stay on top of regular checkups with the dentist
Are you ready to rebuild your smile with full or partial dentures? Contact our office to start your path to a confident smile again!