Invisalign – Buckhead, GA
Invest in a Confident, Straight Smile
Although metal braces are effective, they are often thought to have a juvenile appearance. You need a treatment that is more sophisticated. Invisalign in Buckhead is the answer for you. Visible wires and brackets are not used to move your teeth. Instead, we create a series of clear plastic aligners that are worn over your teeth to gradually reposition them. You will enjoy a virtually undetectable treatment to get a straight, confident smile.
What is Invisalign?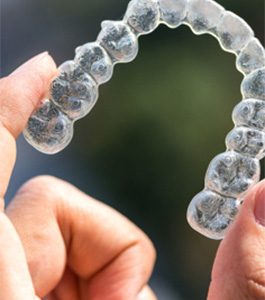 Invisalign is an FDA-approved alternative to metal braces. Instead of using brackets and wires to pull your teeth into position, a digital impression of your mouth is taken to map the movement of your teeth. The 3D technology transfers the information to a series of clear plastic aligners. You wear each aligner in the series for about 1 week before switching to the next. On average, it takes about 12 months to finish your series of aligners. Afterward, you will briefly need a retainer to prevent your teeth from moving back into their previous positions.
Understanding the Cost of Invisalign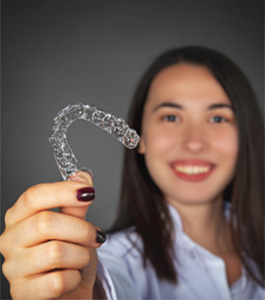 Often, it is thought Invisalign is not an option for the average person because it is more expensive than metal braces. However, that's not always the case! People from all walks of life choose Invisalign to get the smile of their dreams because it's discreet, comfortable, and cost-effective in the long-term. If you want to get an estimate of the price of your smile transformation, then get in touch with our team so we can provide you with a better idea of the cost. Otherwise, you can keep reading to learn more.
What is Life Like with Invisalign?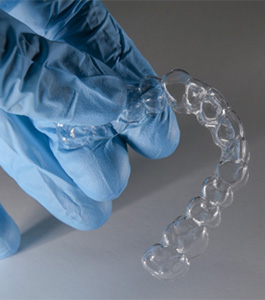 When choosing clear aligners, your life is a bit different from those who choose braces. Not only will you maintain your confidence to speak and smile because the aligners are virtually invisible, but your treatment is also restriction-free. You can eat and drink whatever you like because the aligners are removable; however, you should only have water while wearing them. Your oral hygiene is also easy because there are no brackets or wires to clean around.
Invisalign is the perfect option for busy adults who do not have time for frequent dental appointments. You do not need to visit us for adjustments, so you will spend less time in the chair. Instead, you only need a check-in visit every few weeks to monitor the movement of your teeth.
Is Invisalign Right for Me?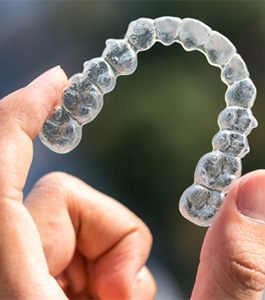 Now, Invisalign can be used to treat a variety of bite and alignment concerns. We perform an extensive consultation to ensure it meets your orthodontic needs. Besides your alignment concerns, it may also be the right option for you if:
You need a less noticeable treatment.
You want quick results.
You are committed to wearing the aligners for at least 22 hours per day.
You are committed to your oral hygiene.
Invisalign FAQs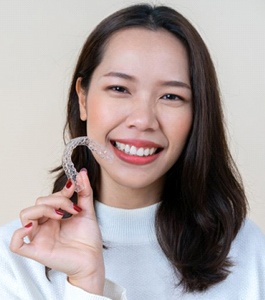 If you're interested in trying out Invisalign, it's understandable that you have some concerns. That's why we've complied this list of frequently asked questions to help you.
How Can I Keep My Invisalign Aligners Clean?
Keeping your aligners clean is important to help them stay unnoticeable. Stains from bits of food will make them stand out, and your treatment won't be as invisible as the name implies. Also, particles from food and drink that get stuck in between your aligners and your teeth can attract bacteria that cause decay and gum disease.
One way to keep this from happening is to gently brush your aligners every day with a soft-bristled toothbrush. However, be sure not to use toothpaste, as that can actually be abrasive and create stains. After brushing, rinse your aligners with lukewarm water. You may also want to allow them to soak for a few minutes. Do not use hot water, though, as that could cause the plastic to change shape and jeopardize your treatment.
I've Had Braces Before – Can I Still Use Invisalign Aligners?
If you've had braces in the past but your teeth have shifted back, you can most likely get Invisalign to treat your misalignment. The only time when it wouldn't be ideal is if your teeth are severely misaligned, so much so that we might recommend traditional braces instead. However, Invisalign in Buckhead will likely work with most cases.
What If I Have Other Dental Work?
It depends on the type. Bridgework may not be compatible, as it connects multiple teeth together, and Invisalign is meant to correct a tiny portion of your smile at a time. Veneers or crowns may work with aligners, but again, it depends. Your best bet is to schedule a consultation with Dr. Refal to see if Invisalign is right for you.
Am I Too Young or Too Old for Invisalign?
Invisalign is generally not recommended for patients younger than 13, as their teeth are still developing, but there is no upper age limit. Teenagers might benefit more from traditional braces, as they are more likely than older patients to misplace their aligners. Since the roots of our teeth become more firmly planted in our gums with age, treatment may take longer for older patients, but don't let that stop you from getting a straight smile. Whether you're 18 or 80, Invisalign may be just the treatment you need.
How Long Will My Results Last?
After your treatment is finished, Dr. Refal will prescribe a retainer for you to wear for a set amount of time. The more you wear your retainer as prescribed, the longer your newly straightened smile will last. If you previously had braces but forgot to wear your retainer, this is your second chance to prevent shifting and keep your smile aligned.
Get Started Today!
If you are ready to invest in a confident smile, contact our office today to see if Invisalign is right for you.