Dental Implants for Buckhead & Beyond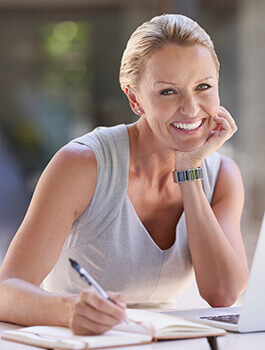 Losing one or more teeth can affect much more than your oral health – it can negatively affect your self-confidence, your smile's function, and your overall quality of life. Here in Buckhead, Dr. Jane Puskas, Dr. Anna Refai, and the rest of our long-term, dedicated staff believe in providing patients with reconstructive solutions that are lifelike and aesthetically pleasing, and dental implants are right at the forefront of that promise. By replicating the entire structure of your natural tooth, implants rebuild patients' smiles in seamless and long-lasting ways. Please contact our practice today if you have any questions, or if you're ready to schedule your first appointment in our brand-new, state-of-the-art office space.
Once it's been determined that you're the right candidate for dental implants, the first step of the procedure will be the surgical placement of the implants into the jawbone. This procedure is handled by a specialist, and patients will typically need a significant period of healing time after the procedure so that the implants can form a bond with the jawbone and create a strong foundation for your replacement teeth.
Dental Implant Restorations
Once the new implants have successfully integrated with the natural tissue, patients from Vinings, GA and surrounding areas will return to our office so that we can design restorations that function properly and are a beautiful complement to the rest of your natural appearance. There are several options for restorations, depending on the scope of the patient's reconstructive needs, their budget, and their personal preferences. They include:
Dental Crowns – Dental crowns are used to restore individual implants without requiring any significant modification of nearby healthy teeth. Our team will ensure that the restoration blends in beautifully with your natural enamel. In fact, you may even forget the tooth isn't natural after some time has passed.
Implant-Retained Fixed Bridges/Dentures – This prosthetic is often ideal for patients in need of more extensive restoration. These prosthetics closely resemble their traditional counterparts, but they're designed to securely attach over a set number of placed implants, creating a much sturdier result overall. Implant-retained bridges and dentures aren't removable, which means that you'll care for them like your natural teeth.
Implant-Retained Overdentures – Overdentures are often a strong choice for patients who have a lower level of oral health and are dissatisfied with the looseness of a traditional denture. This prosthetic attaches to placed implants just like the fixed alternative does, but it's actually removable for cleaning outside of the mouth while still providing improved speech, eating capabilities, and comfort.