Zoom! Teeth Whitening for Buckhead Families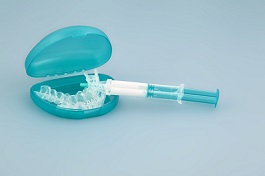 Your smile can say a lot about you. In fact, a study conducted at the University of California Berkley indicated that people who smiled more were often were happier, healthier, lived longer, and were less likely to get divorced. If you hide your smile or don't smile at all because you're concerned about stains or dental discoloration, it's time to contact Jane C. Puskas. Our skilled Atlanta cosmetic dentists and team offer a wide range of cosmetic dentistry treatment options to deliver bright white, straight, flawless smiles. If you've already tried over the counter teeth whitening products without success, let our team help. We offer both in-office and take-home professional teeth whitening solutions that predictably deliver results up to ten shades brighter.
Causes of Dental Discoloration
Tooth discoloration can occur for a number of reasons. It's important that we understand the underlying causes of dental discoloration before we recommend any teeth whitening solution. Some of the many of causes of dental discoloration include:
Consumption of staining foods and drinks
Aging or tooth wear that reveals the yellow dentin layer of the tooth
Fluorosis stains that occur due to over consumption of fluoride as teeth develop
Tetracycline medications that can cause staining on teeth during development
Zoom! In-Office Teeth Whitening
Zoom! is one of the most popular professional teeth whitening options. This in-office whitening process uses a custom dosage of whitening agent that is activated with a low heat curing light to deliver brighter smiles in about an hour. The process is simple. We begin by isolating the teeth to ensure soft tissue is not damaged or irritated by the whitening agent. Then, we apply a coat of whitening gel and the low heat accelerant light. We check the progress every twenty minutes and reapply as necessary to achieve the desired teeth whitening results. Most patients achieve smiles five to ten shades brighter in about an hour.
Professional Take-Home Kits
Unlike store bought teeth whitening kits with low doses of whitening agent and ill-fitting application trays, our professional take-home whitening kits use a custom dose of whitening agent and personalized application trays. Patients will receive personalized doses of whitening agent, custom application trays, and a treatment plan to address their unique teeth whitening goals. Most patients will need to wear their whitening application trays for thirty minutes at a time for about two weeks to achieve their desired results. Take-home whitening kits can also be used a few days each year to touch up the results of in-office teeth whitening.
Benefits of Professional Teeth Whitening
Store bought teeth whitening treatments promise dramatic results they often can't deliver because of the low doses of active whitening agent and the poor application methods. Professional teeth whitening offers much more predictable results. Additionally, they are performed with the recommendation and under the supervision of a skilled cosmetic dentist. This means professional teeth whitening is safer and more likely be successful. If you want to brighten your smile, talk to our cosmetic dentists and team first. We'll partner with you to create a personalized teeth whitening plan that will deliver your desired results.