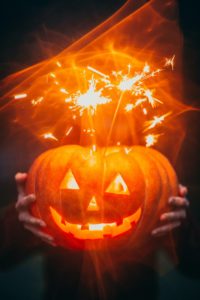 With Halloween just around the corner, you're on the hunt for the perfect spooky costume. It's fun to change your appearance for one day, but you wouldn't want your smile to mimic a werewolf's or zombie's forever. Don't let a night of trick-or-treating leave a permanent mark on your teeth and gums. Your cosmetic dentist has 4 tips to keep your smile healthy, no matter what you dress up as for Halloween.
1. Eat Candy with a Meal
You know it isn't a good idea to eat candy before bed, but when is the best time to sneak a sweet treat? It's better to have candy with or shortly after eating a meal. Eating increases your saliva production, which helps cleanse food particles and sugar from your teeth. Limiting how often you have candy throughout the day will also decrease your risk of tooth decay because your teeth won't be exposed to cavity-causing bacteria as frequently.
2. Choose Your Candy Wisely
Everyone has a favorite candy, but not all are created equal. Some types of candy are worse for your oral health than others, such as taffy. Sticky candy can be difficult to remove from the crevasses of your teeth, so it will stay in your mouth longer, where it can erode your enamel. Hard candy is just as damaging because most require you to suck on it, which will bathe your teeth in sugar. Chewing the candy won't lessen the risk of dental problems because it can lead to a broken tooth. The last place you want to spend Halloween is sitting in a dental chair. You can prevent cavities and dental emergencies by being picky about the candy you eat. It's better to skip those that are hard, sticky, or sour. Instead, opt for chocolate because it's easier to remove from your teeth.
3. Drink Plenty of Water
Whether you're headed to a Halloween party or taking the kids to a haunted house, you'll want to drink plenty of water. Your smile relies on your hydration to keep your mouth moist to limit the growth of bad oral bacteria. Drinking a bottle of water will also help cleanse your mouth from sugar if you're not able to get to your toothbrush.
4. Brush Before Going to Bed
No matter what time you call it a night, don't head to bed without brushing and flossing your teeth. Spend at least two minutes cleaning all surfaces of your teeth with a soft-bristled toothbrush and fluoride toothpaste. Don't forget to floss between each tooth.
Don't let simple mistakes lead to unexpected news at your next cleaning and checkup. Safeguard your smile to ensure it always looks its best.
About Dr. Jane C. Puskas
Dr. Puskas earned her dental degree at the Harvard School of Dental Medicine. She is an award-winning dentist and an instructor in the Department of Dental Care Administration. Dr. Puskas provides comprehensive services to create healthy, beautiful smiles. If you're interested in improving your dental health, contact our office today to schedule an appointment.