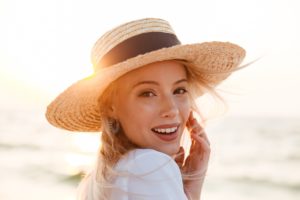 If you've lost a tooth or two over the years, you're not alone. At least 120 million Americans are missing one or more teeth. If you've been waiting to have them replaced, there isn't any better time than now to invest in a beautiful, functional smile. Dental implants are unlike any other treatment because they recreate the entire tooth, including the root. They will closely look and feel just like your natural teeth. Here are 4 reasons summer is the perfect opportunity to achieve the stunning smile you deserve.
1. You're losing bone in your jaw.
Did you know when you lose a tooth, your jawbone slowly deteriorates because it isn't being stimulated by the root? You can lose as much as 25% of your jaw's density within the first year of missing a tooth. As your bone weakens, your remaining teeth won't have the support they need, which might cause them to fall out. You'll also look years older than your real age because your facial tissues won't have the proper structure. A dental implant is the only treatment to replicate the root, which can stop bone loss. The sooner you treat your missing teeth, the more of your natural smile you'll preserve.
2. Flexibility in your schedule.
With the kids home from school, life tends to slow down during the summer. You have more flexibility in your schedule, which means you can take time off from work to recover from your placement surgery. You won't need to worry about running back to the office or taking your child to practice, so you can sit back and relax while your mouth heals.
3. Enjoy your favorite summer activities.
Research has shown that people with missing teeth also tend to have low self-esteem. If you're embarrassed by the gaps in your smile, you might avoid certain situations, like pool parties or taking vacation photos. You don't need to hide your smile this summer. Dental implants look like your real teeth to instantly boost your confidence. You might find you're happier and more outgoing to enjoy all your favorite warm-weather activities.
4. Your dental insurance hasn't expired.
At the end of the year, your dental insurance will expire. You aren't reimbursed for anything you don't use, and nothing will carry over into the new year. With less than 3% of Americans meeting their annual limits, you likely have several benefits remaining. Since we're already halfway through the year, you don't want to wait any longer to use your coverage to offset the cost of dental implants.
Don't spend another day living with an incomplete smile. Invest in your oral health and confidence with dental implants.
About Dr. Anna M. Refai
Dr. Refai earned her dental degree and continued her training to focus on orthodontics. She regularly pursues advanced training in many specialties, like endodontics, dental implants, and periodontal surgery. She can treat the most complex cases of tooth loss. Contact our office today to see if you're a candidate for dental implants.