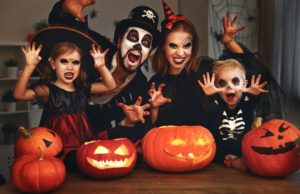 Halloween is an exciting time of the year as children get to overindulge in candy while dressing up in colorful costumes. Although it may only be one night of fun, it can leave a lasting mark on your child's dental health if you aren't careful. You might believe all candy is bad for their teeth, but there are some that can contribute to tooth decay more than others. Here's a list of the best and worst candies to protect your child's smile from cavities after Halloween.
Chocolate
Chocolate is among the best candies for your child's teeth because it doesn't tend to linger on the enamel. If possible, encourage your child to choose dark chocolate because it has less sugar than milk chocolate.
Sticky/Chewy Candy
Your child's dentist will advise against chewy or sticky candies because they are among the worst for the teeth. They can be difficult to remove from the crevasses and pits of the molars. The longer the candy sits, the more difficult it is to remove. This allows cavity-causing bacteria to weaken enamel.
Sour Candy
Sour candies are coated in sugar and are often acidic to make you pucker your lips. Both are very damaging to your enamel, making you vulnerable to cavities. If your child can't resist the temptation, have them rinse their mouth with water if they can't brush their teeth right away.
Hard Candy
Hard candies should be avoided on Halloween for several reasons. Not only are they a choking hazard for small children, but they can also break their teeth if they aren't careful. In addition, they must hold the candies in their mouth for a prolonged time. Their saliva mixes with the sugars, bathing their teeth in a cavity-causing residue.
Popcorn Balls
As long as your child doesn't have braces or a dental appliance, popcorn balls are a great sweet treat; however, they can get stuck between the teeth. It's best to have your child floss after brushing to ensure harmful sugar or food particles aren't hiding between their teeth.
Tips for a Healthy Halloween Smile
You can ensure your child enjoys the holiday without worrying about them damaging their smile. Here are a few simple tips to protect their dental health:
Limit your child to 1-3 pieces of candy per day.
Maintain a brushing and flossing routine.
Drink plenty of water between candy rounds.
Encourage healthy snacks, like fresh fruits, vegetables, and low-fat dairy products.
With a few simple changes, your family can enjoy the sweet treats and snacks of Halloween while minimizing any damage to your child's developing smile.
About Dr. Jane C. Puskas
Dr. Puskas earned her dental degree from the Harvard School of Dental Medicine. She's an award-winning dentist for the exceptional care she provides the young smiles in the community. She offers family-oriented dental care to create healthy smiles for generations. If it's time for your child's next cleaning and checkup, don't wait. Contact our office today to invest in the power of preventive dentistry.