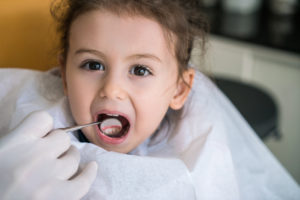 We're busy parents – with a curious toddler who loves exploring, we have our hands full. But no matter what excitement pops up during the day, we always put our child's health first, including their teeth. But when should we take our child to see their family dentist in Peachtree Hills for the first time? And, what dentist near me can treat our child, as well as us as parents? You're in luck – Dr. Jane Puskas has the pediatric experience you need and is your one-stop dental shop for your entire family. Find out when your little one should see us for the first time, and how you can prepare for their first appointment in this post.
When Should My Child See The Dentist For The First Time?
The American Dental Association (ADA) recommends that children should see their dentist by the time they celebrate their first birthday. This is important for many reasons, including:
Proper Development – Dr. Puskas will be able to check and make sure your child's mouth, jaw, and teeth are developing correctly.
Tooth Decay – Decay and enamel problems can occur as soon as your child's first tooth arrives in the mouth. Since kids are developing hand-eye coordination, they're especially prone to enamel problems like tooth decay. Sweets and snacks can compound the issue, but seeing your dentist can make it easier to catch trouble early.
Cavities – More than 1 in 4 children has a cavity by the age of four, and some kids can develop dental caries as young as two years old. These can be painful and spread infection to other teeth, so see us to save your child's smile and spare them from unnecessary discomfort.
Thumb & Pacifier Sucking – Kids often suck their thumbs, fingers, or on a pacifier when they are anxious, which can result in a condition called "pacifier teeth." You can with Dr. Puskas to solve this common problem that negatively impacts your child's health and appearance.
Why Should Our Child See Dr. Puskas?
As a respected professional in the Atlanta area, Dr. Puskas has the experience you need. And, the great thing about our practice is that we care for patients of all ages – from kids to grandparents and everyone in between, your entire family can be treated in the same convenient office.
How Should We Prepare For Our Child's First Appointment?
There are many things you can do to prepare for your child's first dental appointment. Keep the following tips in mind and watch this helpful video from the ADA, too.
Schedule the appointment after your child has eaten and not around their nap time.
Focus on education and getting to know your dentist in the first appointment.
Make the idea of the dentist fun by reading stories, watch cartoons, and enjoy coloring books about the dentist.
Speak positively about the dentist – if you say going to the dentist will be enjoyable, your kids will believe you.
Reward good behavior with stickers or a small toy. And don't fret if your child wiggles or even sheds some tears – this is often from anxiety, not necessarily because anything is wrong.
Brush at home twice a day – use a pea-size amount of toothpaste and be gentle.
Limit sweets to prevent cavities and tooth decay – this includes fruit juices and sugary beverages, as well as snacks.
Now that you know when your child should see the dentist for the first time, and that we can conveniently treat your entire family, schedule your appointment with Dr. Jane Puskas today!