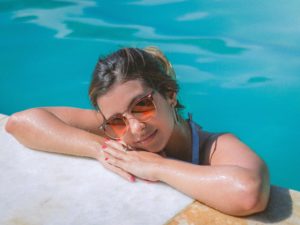 Diving into a refreshing pool is a great way to cool off on a hot day. However, is swimming bad for your teeth? The answer might surprise you. Believe it or not, swimming pools are linked to a variety of oral health problems, including dental emergencies. Whether you're an avid swimmer or you enjoy taking a dip occasionally, here's what you need to know to protect your smile. 
Swimming Pools Linked to Oral Health Risks
Swimming is a great source of exercise or a fun way to spend the day with the family. Unfortunately, spending too much time in chlorinated water can leave a lasting mark on your smile. Not to mention, a day at the pool can lead to a trip to an emergency dentist if you aren't careful. The most common risks to your oral health may include:
Swimmer's Calculus: Prolonged exposure to chlorinated water can cause swimmer's calculus. Deposits on your teeth can develop from chlorine, causing your teeth to turn brown or yellow. Often. It affects swimmers who spend more than 6 hours per week in water treated chemically.
Tooth Sensitivity: Too much chlorine in water can wear away at your enamel, which can lead to tooth sensitivity. Over time, your teeth can become brittle, increasing your risk of breaks or fractures.
Mouth Injuries: A friendly game of water volleyball or slipping on a pool deck can lead to mouth injuries that require immediate dental attention.
Tooth Squeeze: Divers and snorkelers can be at risk of "tooth squeeze," which occurs in extreme altitudes, like underwater. Air in your teeth contract to stabilize with the outside pressure, causing pain, damaged restorations, and other concerns.
You don't have to skip your favorite summer pastime to safeguard your smile. With a few precautions, you won't think twice about spending the afternoon soaking in the pool.
Protect Your Smile from Pools
You can avoid irreversible damage to your teeth or a painful dental emergency by following a few simple tips:
Check the chlorine level of your home pool often.
Look for signs of erosion on pool ladders to help determine the pH level of public or private pools.
Rinse your mouth with water after swimming.
Wear a mouthguard if you play contact water sports.
Follow pool safety rules, like walking on wet surfaces.
Visit your dentist regularly for a cleaning and checkup.
Get plenty of fluoride to keep your enamel strong.
Despite taking preventive steps, accidents can happen. If you notice changes to your oral health or experience a dental emergency, don't wait to contact your dentist. They'll provide the personalized care you need to look and feel your best for summer.
About Dr. Jane C. Puskas
Dr. Puskas earned her dental degree from the Harvard School of Dental Medicine and has continued her education in many specialties. She is an active member of various dental organizations, including the American Dental Association and the American College of Dentistry. Dr. Puskas strives to help each patient achieve their best smile. Contact our office today to request an appointment.