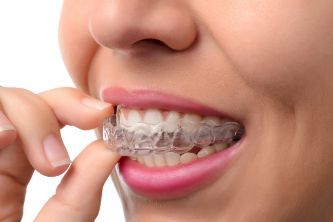 In the last couple of decades, Invisalign has been a complete game-changer in the field of orthodontic treatment. It works beautifully for many patients with overbites, underbites, crossbites, crowding, gaps and more – all without the difficulties associated with metal brackets and wires. In fact, it has a 96% satisfaction rate among patients! If you've been waiting to get Invisalign in Buckhead, don't put it off any longer. Keep reading to learn about 5 great reasons to start your journey to having a straight, beautiful smile today!
1. Invisalign Is Usually Completed In Less Time
While each patient is unique, the average treatment time for Invisalign is around 12 months (for metal braces, it's between 18-24 months). However, it's important to commit to wearing the aligners at least 22 hours each day to get your results on time.
2. The Cost Is Comparable To Traditional Braces
Since every patient has individual needs, orthodontic treatment plans can vary quite a bit in cost, regardless of whether Invisalign or metal braces are used. With that said, the cost for Invisalign is usually in the same ballpark as braces. In addition, insurance plans that already include orthodontic coverage usually cover Invisalign at the same rate as traditional braces.
3. The Trays Are Removable
The fact that Invisalign trays are removable provides more than one significant benefit. To begin with, maintaining good oral hygiene is much easier, so you'll have less risk of developing cavities or gum problems. Second, you can eat the same foods as always and won't have to avoid hard, sticky or crunchy foods the way you would in brackets and wires.  
Also, if you have special events like a presentation at work, a wedding, or a job interview, you always have the option to take out your trays beforehand.
4. Invisalign Trays Are Smooth and Comfortable
Unfortunately, the lips, tongue, and cheeks often become irritated from sharp brackets and orthodontic wires. Smooth, plastic aligners are much more comfortable and won't aggravate your soft tissues.
5. Invisalign Is Discreet
Clearly (no pun intended!) this is one of the biggest advantages of Invisalign. In the past, many people, especially adults, simply lived with crowded or crooked teeth because they didn't want to spend years in metal braces. Now you can get orthodontic treatment that's virtually invisible to other people.
With all the benefits that come with Invisalign, why wait? With a 96% satisfaction rate among patients, many people's only regret is that they didn't do it sooner!
About the Author
Dr. Jane C. Puskas is a family dentist with over 30 years of experience. She's seen firsthand how Invisalign treatment improves her patients' oral health and self-confidence at every age and is thrilled to offer such a wonderful alternative to metal braces. If you have any questions about Invisalign in Buckhead or want to schedule a consultation, you can reach Dr. Puskas via her website.