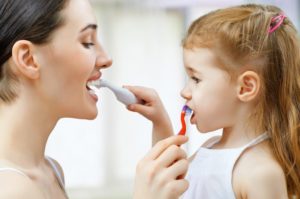 You want what's best for your son or daughter, which is why you help them practice good oral hygiene like regular brushing and flossing. However, did you know that taking care of their smile has a big influence on the rest of their body? Studies indicate that great oral health plays a role in reducing risk of health conditions like diabetes, dementia, and heart disease. Here are some important habits your Buckhead dentist recommends teaching your son or daughter to improve both their smile and their overall wellbeing.
Brush Thoroughly & Regularly
Brushing your teeth for two minutes twice a day is an important part of preventing cavities, bad breath, and a yellow smile. Additionally, regularly removing the plaque and bacteria that cause these issues keeps it from traveling to other parts of the body. An unhealthy mouth can quickly lead to respiratory disease, malnutrition, and worsening diabetes.
Thankfully, there are plenty of ways to make toothbrushing a fun routine for your child, including:
Letting them use a fun-flavored toothpaste or brightly colored toothbrush.
Encouraging them to listen to music, read, or dance for two minutes as they brush their teeth.
Motivating them with goal trackers and healthy rewards.
Don't Forget to Floss
Gum disease is the leading cause of tooth loss in the US, but its negative effects don't stop at your smile. Researchers have linked this common oral health condition to an increased risk of systemic health concerns like arthritis, dementia, and even heart disease. Regularly flossing is essential to keeping gum tissue healthy and strong.
You can help make flossing easier for your son or daughter by trying:
High quality, waxed floss.
Floss in a flavor like cinnamon or watermelon.
Flossing tools like interdental brushes or floss picks.
Get Regular Dental Checkups
One of the best habits to protect your family's health is to get dental checkups every six months. Not only will this help keep their smiles healthy and intact, but it's a great way to catch underlying health issues as early as possible. Nearly 90% of systemic health problems can be seen in the mouth, so your dentist may be the first to identify conditions like diabetes, cancer, or osteoporosis.
Not only do regular visits provide early detection of problems, but they play a key role in preventing them as well. Your little one should start seeing their dentist by their first birthday so they can become accustomed to the new sights and sounds of a dental office before they have a toothache or cavity. A good first impression of their dentist will inform your son or daughter's opinion on oral health care for the rest of their life.
Instilling a few healthy habits into your family's daily routine is an excellent way to set them up for years of happy, healthy smiles.
About the Practice
Dr. Jane Puskas and Dr. Anna Refai are proud to offer the families of Buckhead and the surrounding Atlanta, GA communities state-of-the-art dental technology and advanced techniques to meet every oral health care need. They understand the value of both excellent in-office treatment and great oral hygiene at home, which is why they'd be happy to offer you more practical tips for taking care of your family's smiles. If you'd like to learn more healthy habits for your child's dental health, feel free to contact them via their website or (404) 261-7488.