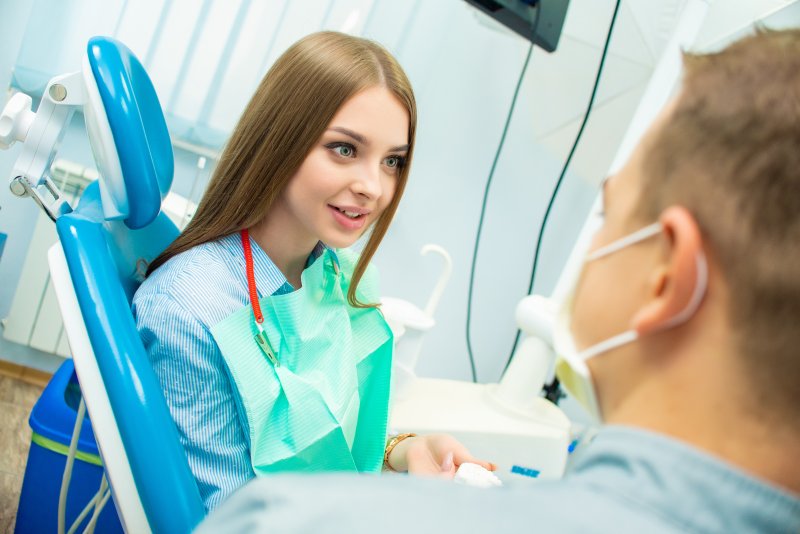 Are you in need of dental care but feeling anxious about visiting because you are afraid of contracting COVID-19? While it may seem risky to visit, whether it's for your routine exam and cleaning or even a dental emergency, dental offices are actually one of the cleanest and safest places to be in. With that said, dental offices understand how important it is for them to do their part to reduce the spread of the virus. That's why they've taken additional steps to ensure your safety during COVID-19. Learn how from a dentist in Buckhead!
Prescreening of Patients
In order to reduce the risk of exposure to the virus, dental offices are now performing prescreenings of patients before they are able to visit. This means asking them questions about any current symptoms they might have or whether they have traveled outside of the country in the past several weeks or months. These prescreening questions will be asked an additional time when they enter the office just to be extra careful. They may also ask those who are currently utilizing facial masks to keep doing so for the remainder of their appointment (other than during an actual treatment of course.)
Personal Protective Equipment
Dentists, hygienists and assistants are already required to wear multiple forms of personal protective equipment while serving patients, including gloves, facial masks, and gowns. They may even include facial shields to their equipment to be extra cautious against COVID-19. After each patient, these materials are properly disposed of and replaced with clean equipment.
Constant Disinfection Practices
Dental employees are not only required to wash their hands many times throughout the day, but also do so immediately after seeing a patient, even if they were wearing protective gloves. Hand hygiene is typically practiced with soap and water, but alcohol-based rubs will also be available, both to dental employees and incoming patients. Dental employees also spend additional time disinfecting commonly touched surfaces throughout the day and performing deep cleanings of the office after the final patient completes their appointment.
Removed Waiting Areas
Typically, patients would sit in a waiting area before being seen by the dentist. Instead, patients will now be asked to wait in their cars and messaged through their phones when it's time to start their appointment. Not only does this make the practice cleaner, but it plays into social distancing protocols that are required in businesses throughout the country, not just dental offices.
Adjusted Appointment Schedules
In order to reduce waiting times as well as lower the number of patients being seen in the office at a time, more time will be allowed between patient appointments. While this will limit the number of appointments that can be completed in a given day, it's essential to prevent disease transmission.
Are you in need of dental care? Don't let COVID-19 get in the way of your oral health. Dentists are exceeding standards recommended by local health officials, so you can feel confident during your next appointment.
About Jane C. Puskas DMD & Anna M. Refai DMD
Dr. Puskas and Dr. Refai take patient safety very seriously throughout the year already, but the COVID-19 pandemic has only given them more reason to be extra vigilant. Whether you need a basic exam and cleaning or address a dental emergency, don't hesitate to contact them through their website.