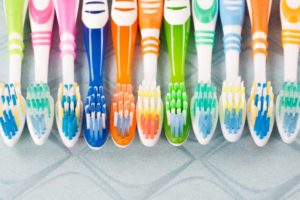 When you go to the dental aisle at the store, you see an entire wall of toothbrush options. Some have soft bristles, others hard. Some have small heads, others large. It can be overwhelming to say the least. Are they all basically the same? How do you know which one will work best for you? Get the answers to all your questions about toothbrushes from your dentist in Buckhead.
How often should I change my toothbrush?
You need to switch out your toothbrush every 3 or 4 months or when your toothbrush shows signs of wear, whichever comes first. It can be tempting to hold onto your toothbrush a little while longer, but worn bristles can irritate or damage your gums. Children tend to brush more rigorously, so you may need to replace their toothbrushes more frequently. Pay attention as you brush your teeth and set your calendar, so you can recognize when it is time to replace your toothbrush.
Throw away your toothbrush after you've been sick to prevent reinfection, especially if it is stored next to other toothbrushes.
How do I pick the right toothbrush?
Most dentists recommend using soft-bristled toothbrushes. Brushing with hard-bristled toothbrushes can wear away your teeth's protective layer of enamel. When the enamel thins, the yellow dentin layer becomes more exposed, causing the teeth to appear yellow or be sensitive to hot and cold. Using a soft toothbrush gets the job done without causing excessive wear on your enamel.
It's also a good idea to find a toothbrush with a smaller head so that it can fit better in hard-to-reach areas of your mouth. You can also consider a powered toothbrush, which is a great choice for many patients, especially those with limited dexterity.
Basically pick the toothbrush you feel most comfortable using on a daily basis. It may take a little bit of experimentation, but you'll find the one that's right for you.
How should I maintain my toothbrush?
After you finish brushing, rinse the toothbrush under tap water to wash away any remaining saliva or toothpaste. Then store your toothbrush vertically. This position allows it to air dry completely. Avoid putting it in a closed container because bacteria can build up more easily.
What is the proper technique to brush my teeth?
Holding the toothbrush at a 45 degree angle, gently move the toothbrush back and forth in short strokes. Brush the outer, inner, and chewing surfaces of your teeth. For the inner surfaces of your front teeth, tilt the brush vertically and make several up-and-down strokes. If you would like a demonstration on the proper way to brush your teeth, contact your dentist in Buckhead.
Hopefully these answers will help you determine which toothbrushes to try. Again, it may take some trial and error, but you can find the right toothbrush that will help you keep your teeth clean and protected from bacteria. For more information about toothbrushes, oral hygiene, or preventive dental care, contact your dentist in Buckhead.
About the Author
Before opening her own practice in 1994 in Atlanta, Dr. Jane Puskas had some experience teaching at universities including Harvard and the University of Toronto. She has about 30 years of dental expertise and was the first female president of the Hinman Dental Society. You can contact her by calling (404) 261-7488 or clicking here.