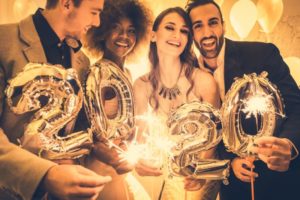 There's nothing selfish about committing to boosting your confidence and self-esteem this new year. Making an investment in your appearance is one of the best ways you can promote love and care for yourself and boost your self-worth. If you wish you had less frown lines and brighter teeth, there's no need to push your wants and needs to the side. With cosmetic dentistry, you can restore your youthful glow. Read on to learn about how BOTOX and teeth whitening in Buckhead can erase signs of aging in 2020.
Professional Teeth Whitening
As you age, your enamel will naturally begin to thin, revealing the yellowish layer of your tooth underneath, called the dentin. Unfortunately, this can make your smile appear discolored and worn-down. Additionally, consuming stain-causing foods and beverages such as tomato-based sauces, red wine, soy sauce, and black tea will also cause this problem. These products are all rich in tannins that cling to your teeth and bind with plaque, making them difficult to remove.
You've most likely tried countless store-bought kits in an attempt to brighten your teeth and make your smile look young again. While these products make big promises on the packaging, they don't always deliver, and that can be frustrating. Instead of throwing your money away on over-the-counter products that can put your oral health in jeopardy, get professional teeth whitening. You can expect fast, safe, and reliable results that last, making it the most cost-effective investment in your smile.
BOTOX Treatment
Throughout the years, your facial muscles will contract and work hard to express your emotions. Unfortunately, this will cause your collagen and elastin to break down, and fine lines and wrinkles to appear. These new lines can make you look older than you actually are, creating an awkward and embarrassing situation when someone asks you your age.
Fortunately, your cosmetic dentist offers BOTOX in Buckhead to help relax overworked facial muscles and reduce the unsightly appearance of lines and wrinkles. By injecting a special bacteria diluted with saline solution into certain muscles, they can smooth out your skin. They also offer dermal fillers that can restore lost collagen and elastin and reduce droopiness that has occurred as a result of aging.
The Importance of Self-Care in 2020
Knowing your worth is important and practicing self-care in 2020 by investing in treatments and activities that make you happy can help do just that. By learning how to maintain a healthy relationship with yourself, you'll be able to manifest more positive feelings and be prouder of the person you are.
Your cosmetic dentist can walk you through these youth-restoring treatments during an initial consultation and answer any questions you may have. That way, you can feel more comfortable making your first effort of self-care in 2020 by carving time out of your busy schedule to fix cosmetic flaws that you've been wishing would go away.
About the Author
Dr. Jane Puskas attended the Harvard School of Dental Medicine where she graduated cum laude and received several awards of recognition. She is an active member of a few professional organizations and stays up-to-date with the latest techniques and technology in dentistry. She offers comprehensive care, including cosmetic services such as BOTOX, dermal fillers, and Zoom! teeth whitening. For questions or to schedule a consultation, visit her website or call 404-261-7488.