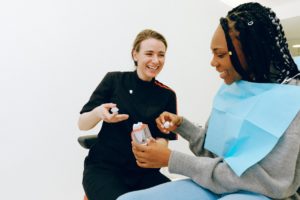 Your life is busy. If you need a crown, you don't have the time for multiple dental appointments. You don't have to delay your procedure until you have more flexibility in your schedule. Did you know you can get the high-quality restoration you need in just one day with a CEREC crown? New techniques and technologies have streamlined the process to save time and money without compromising aesthetics, durability, or longevity. Here's how long it will take to rehabilitate your smile. 
Preparatory Procedures
Crowns are versatile because they offer preventive, restorative, and cosmetic benefits. Since they can be used for a variety of purposes, the underlying reason will influence how long the process will take, such as if you need a root canal. Besides any preparatory procedures, your tooth will have to be reshaped to allow the crown to fit over it. Your dentist will explain how long you can expect any prep work to take during your consultation.
Impression Process
Traditionally, an impression material is used to get the details necessary to create your crown. Although every situation differs, the messy, foul-tasting material may need up to 4 minutes to set, which can be uncomfortable. CEREC crowns don't rely on the traditional impression method. Instead, a quick digital scan of your mouth is all your dentist needs. In about 30 seconds, they'll have a highly detailed image of your tooth to craft your crown.
Customization & Milling
The digital impression integrates with in-office CAD/CAM software. You won't have to wait for the impression to be sent to an off-site dental lab, which usually takes 2 to 3 weeks. Instead, you'll skip needing a temporary crown and a second appointment because everything is handled in-office. Your dentist will use state-of-the-art technology to design your crown to meet your exact needs. The process minimizes any risk of errors to ensure your crown is right the first time. After your dentist has set the specifics for your restoration, the information is sent to an in-office milling machine. Your crown will be cut from a single block of all-ceramic material in about 1 hour.
Crown Placement
Once your crown has been made, your dentist will apply dental cement to bond the restoration to your tooth. Within a matter of minutes, you'll be ready to get back to your daily responsibilities. You will have a natural-looking crown that blends in with your real teeth in a single visit.
Benefit from the Best Today
Dentistry undergoes continual innovations to enhance patient care. If you need a dental crown, invest in the best modern dentistry has to offer with CEREC technology.
About Dr. Jane C. Puskas
Dr. Puskas earned her dental degree from the Harvard School of Dental Medicine. She regularly continues her education to provide up-to-date services, like CEREC one-day crowns. As a member of various professional organizations, including the American Dental Association, she has the qualifications you can trust. Contact our office today to see if you're a candidate for a same-day restoration.