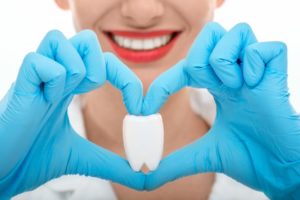 Did you know that your gum health can impact your heart health? It's true. Periodontal disease has been linked to many medical conditions like diabetes, kidney disease, and cancer, and can increase your risk of heart disease. Now, February is simultaneously Heart Month and Gum Disease Awareness Month. It's the perfect time to broaden your understanding of these two diseases and how they influence each other. Check out this helpful information periodontal disease and how to treat and prevent it from your dentist in Buckhead.
Understanding Periodontal Disease
Periodontal disease, also called gum disease, is a serious chronic inflammatory condition in the gums. It is caused by bacteria that live in plaque, a white, sticky substance in your mouth. These bacteria produce harmful acids that irritate the gums, causing gingivitis—the first stage of periodontal disease. Over time as plaque builds up and hardens, gums recede from the teeth, exposing the roots. Also, pockets between the teeth and gums trap food particles and plaque. Then, the tissue and bone that support your teeth can become destroyed by these infectious bacteria. In the end, untreated periodontal disease can lead to tooth loss and permanent damage to tissue and bone.
Connecting Periodontal Disease to Heart Health
When you view your mouth as the doorway to the body, it makes sense that periodontal disease is connected to heart disease. The bacteria and plaque buildup in the mouth can enter the blood stream and cause blockages. In fact, those who have periodontal disease may be two to three times more likely to have a heart attack, stroke or other serious cardiovascular event than those who don't. Also, some of the same lifestyle choices, such as poor diet, can lead to these diseases.
Treating Periodontal Disease
Treatment of periodontal disease depends on the severity. If caught early enough, it can be treated with a routine dental cleaning. For more advanced stages, your dentist in Buckhead needs to use more intensive treatment. Scaling and root planing include a deep cleaning above and below the gum line and smoothing out the rough exposed roots to prevent future plaque buildup. The dentist may also need to apply an antibiotic treatment to ensure that your mouth is free from these harmful bacteria. Through these treatments, your dentist can restore your oral health.
Preventing Periodontal Disease
Fortunately, periodontal disease is preventable! And what's even better, the tasks to prevent them are rather simple and easy to implement into your lifestyle. These critical tasks include the following:
Flossing at least once a day.
Brushing at least twice a day.
Visiting the dentist twice a year for checkups and cleanings.
Some other lifestyle choices are also helpful in warding off both gum and heart disease. These include the following:
Reducing the sugary foods and drinks you consume.
Drinking more water.
Using an antimicrobial mouthwash once a day.
In the end, your gums affect more than just your mouth—they can affect your heart as well. As you take care of your mouth, you can help reduce your risk of heart disease, or at least lessen the severity of it. The little oral habits needed to maintain your periodontal health are worth the time and effort so that you are able to enjoy your natural, healthy smile for years to come.
About the Practice
Dr. Jane Puskas's dental office has recently made several changes. She has recently moved to a new, state-of-the-art office and has been joined by Dr. Anna Refai, opening up more services and hours. However, the compassionate and expert care that patients can receive from this team has not changed one bit. To contact them for an appointment, you can call (404) 261-7488 or click here.