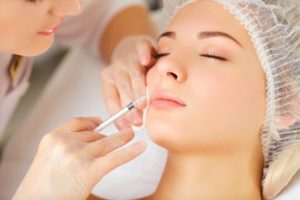 Did you know that your cosmetic dentist can help improve your smile by fixing more than just your teeth and gums? They can use Botox and Juverderm to help turn back time and restore your face's youthful appearance by minimizing wrinkles. You wouldn't expect a dentist's office to be able to do that! Let's take a closer look at Botox near Buckhead and Juverderm.
What is Botox?
Botox is an anti-aging treatment made from a purified protein designed to prevent certain muscles from contracting. This softens the appearance of wrinkles. After just one session, you can enjoy a younger, more vibrant appearance for 3 to 6 months. If you have wrinkles and lines from showing emotion, like laugh lines or crow's feet, Botox might be right for you.
What is Juvederm?
Juverderm near Buckhead is different from Botox in that it is a gel that does not paralyze the muscles. It's designed to treat wrinkles that appear when your face is at a resting position. The gel replaces the volume in your face that has been lost to the natural aging process. If you have deep lines around your upper lip, mouth, forehead, or cheekbones, Juverderm could easily help you restore youthfulness in those areas.
Am I Too Young to Start Botox or Juvederm?
Many patients start Botox treatment when wrinkles begin to form in their late 20s or early 30s. Some patients even start in their early 20s to try and prevent wrinkles from forming later on. However, this can actually cause more harm than good.
Getting Botox too young can cause the affected muscles to atrophy, or wither away from not being used. Your muscles will then shrink, which can actually make you look even older. One way to prevent this is to go longer between your appointments to give your muscles a chance to move around. This can give them a little exercise before they are paralyzed again, preventing them from wasting away.
What Other Factors Should Go into My Decision?
Your age shouldn't be the only thing you factor into your decision to get Botox or Juvederm. There are a few other things you should consider, such as:
Your health. If you have a medical condition like multiple sclerosis or a neuromuscular disorder, you might not be a good candidate for Botox or Juvederm. In addition, it's not recommended that pregnant people or nursing mother receive injections.
Your treatment goals. It can be tempting to try and remove wrinkles from your entire face at once. However, the different muscle groups in your face interact with each other. For example, you need to muscle in your forehead to keep the rest of your face lifted. An injection in your forehead might cause other areas of your face to droop. Talk to your doctor about your priorities and which areas you want to target first.
How your family ages. We often age similarly to our parents. Look to them or other family members to determine which areas of the face you want to target first.
Upkeep. If you truly want to look younger, you'll need to come in at least once every few months to maintain a wrinkle-free face. Unless you make that commitment, your face will start to show signs of aging once more.
To make an informed decision about getting Botox or Juvederm, it's important to do your research. If you have any questions, be sure to ask your dentist.
About the Author
Dr. Jane Puskas graduated cum laude from Harvard School of Dental Medicine. She founded her own practice in 1994 in Atlanta, GA, where she has specialized in restorative and esthetic dentistry. In 2013, she became the first female president of the Hinman Dental Society. To learn more about how she can restore your youth, click here or call (404)-261-7488.