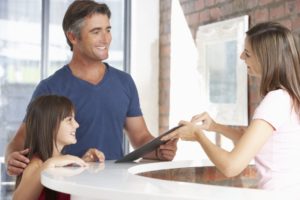 Does your dental insurance policy cover your son or daughter? Maximizing your children's dental insurance coverage is a great way to keep their precious smile healthy as it grows. While many people find dental insurance somewhat confusing, understanding a few basics and simple terms can help you make the best decisions for your family. Read on as your Buckhead dentist shares five important tips for making the most of your dental insurance while keeping your child's smile healthy into the new year.
1.) Keep Track of Your Deductible
Before your dental insurance will start to pay for you or your child's dental care, you need to meet your deductible. Once you've paid this out-of-pocket expense for your treatments, your dental insurance will begin to cover the cost. Keep an eye on how close you are to meeting your deductible so you can plan your little one's dental care accordingly.
2.) Don't Let Your Annual Maximum Go to Waste
Once you've paid your deductible, your dental insurance company will pay for you or your child's treatments up to a certain dollar amount. This is your annual maximum. In most cases, whatever is leftover of your annual maximum at the end of the year will expire. Once you've met your deductible, be sure to schedule any dental work you or your child needs before the end of the year to keep your dental benefits from going to waste.
3.) Remember the 100-80-50 Rule
Every dental policy is different, but most follow a 100-80-50 structure of coverage. Typically, insurance companies will cover 50% of major procedures and 80% of basic treatments. However, nearly every dental insurance plan covers preventive care like checkups, cleanings, fluoride treatments, and dental sealants at 100%. Being proactive about your child's oral health can end up saving you money in the future!
4.) Ask for a Pre-Determination of Benefits
Before your child gets any dental work that goes above and beyond a checkup, ask your dentist to submit a pre-determination of benefits. They'll send the estimate of your treatment to your insurance provider, who will process it and send back a breakdown of what your insurance policy will cover. This can help you plan out the optimal times for your child to get their dental care, as well as prevent any unpleasant surprises when paying for their treatment!
5.) Take Advantage of Dental Checkups
One of the best ways to keep your son's or daughter's smile healthy is to keep oral health issues from developing in the first place. Two easy checkups and cleanings every year can make all the difference in preventing serious, painful, and expensive oral health conditions in the future. Since nearly every dental insurance policy covers two checkups a year at 100%, make sure your little one is taking full advantage of them!
If you have more questions about your dental insurance or concerns about the cost of your child's dental care, don't hesitate to reach out to your dentist. They can help ensure you're maximizing your benefits and review your options for making your family's oral health care as affordable as possible.
About the Author
Dr. Jane C. Puskas has been caring for smiles of all ages in Atlanta and the surrounding communities since 1994. As a recipient of awards from The American Society of Dentists for Children and a mother herself, she fully understands the unique oral healthcare needs of younger patients. With numerous dental services for children, several payment options, and a highly experienced team with your best interests in mind, she can help make caring for your little one's smile affordable. To learn more, she can be contacted via her website or at (404) 261-7488.